---
MEGHAN + NICK | MARRIED!
---
What an extraordinary day. I should have known from their engagement session (Pt. I + II) how phenomenal their intimate wedding would be. You could feel the love emanating from every single person in the room. You could tell that each person in attendance was someone close to Meghan and Nick's hearts. I learned what it looks like to show people how much you love and appreciate their existence in the universe from Meghan + Nick, on a day that was supposed to only be about them – they made it about everyone in the room. These two planned an intimate affair full of love + laughter in their private residence on the hillside of the Santa Barbara mountains. Every detail was based purely off of their unique personalities, Wiccan traditions and came from the depths of their love for each other and their family. I crave more celebrations like this!
A few of my favorite parts of the day:
Meghan rocking her badass crystal crown from Howling Moon  + vintage red gown with fringe (seriously, she wasn't just a bride, she was/is a QUEEN).

Nick giving so much love to all his family + friends and making Meghan cry all the good + happy tears. Their first look was such a special moment! 

Meghan's Mom, Trudy, delivering THE MOST INCREDIBLE ceremony and hand fasting for her daughter and new son. Seriously, I had to hold back my tears as she had them repeat these lines from Kiersten White:

"I didn't fall in love with you. I walked into love with you, with my eyes wide open, choosing to take every step along the way. I do believe in fate and destiny, but I also believe we are only fated to do the things that we'd choose anyway. And I'd choose you; in a hundred lifetimes, in a hundred worlds, in any version of reality, I'd find you and I'd choose you."

That long table, family-style dinner, drink-all-you-want attitude and absolute amazing atmosphere. 

Feeling like a dear, old friend to these two. Meghan + Nick, thanks for making me feel so welcome on YOUR special day. So much love to the both of you!!! 
Congratulations you two; you deserve nothing but the best from the universe. <3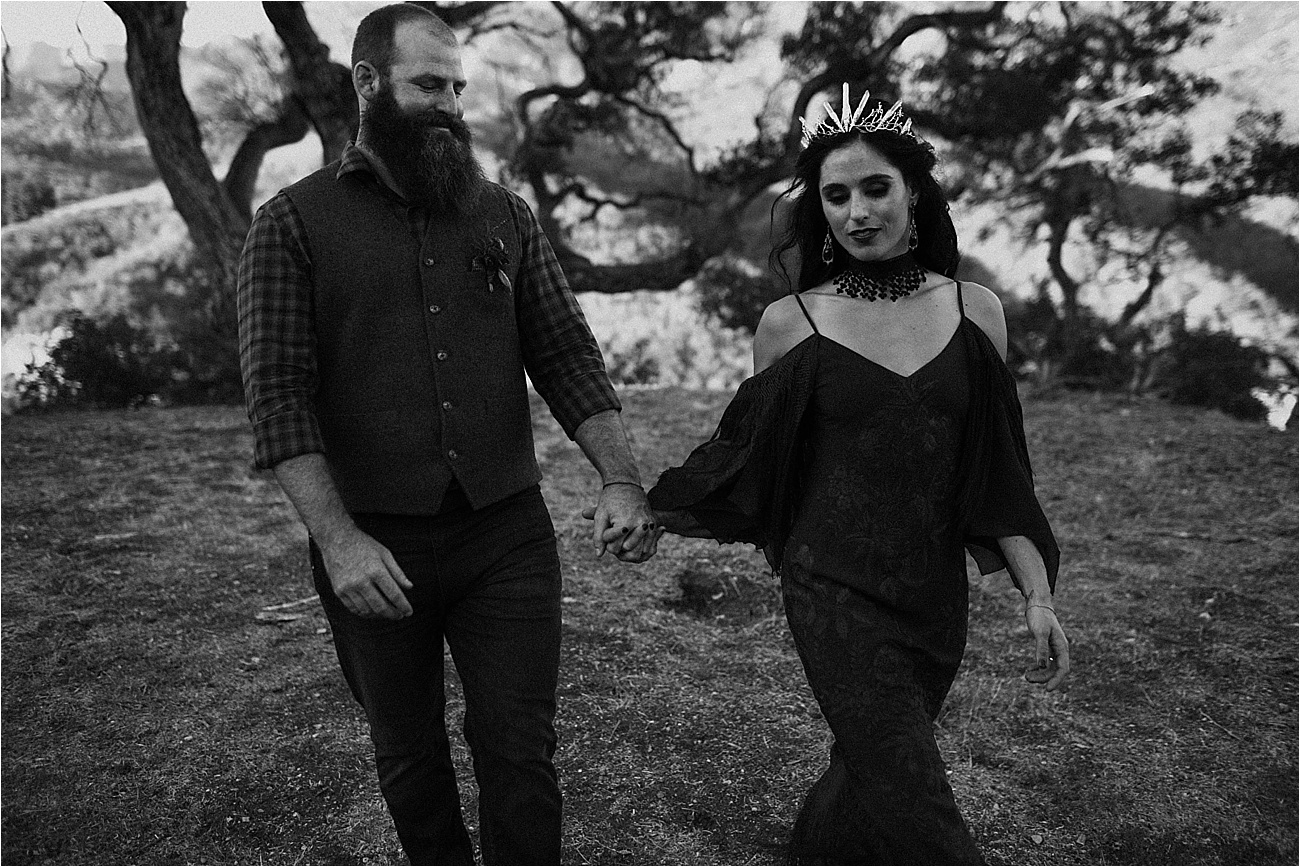 Getting to know these two gems + having the honor of capturing their intimate celebration has truly been a blessing. I'm so excited for your future together!
xo Alex 
---
Bride's Gown – Vintage Victorian Vogue
Bride's Getting Ready Outfit – Mika Yoga Wear
Bride's Shoes – Frye  
Vintage Earrings – Antique Alley
Headpiece – Howling Moon 
Florals – Bright Inc. 
Pies – Marcieis Pies and Goods 
Catering – SBB Gourmet Catering
Invitation Suite – Tiger Lily Invitations
Bridesmaid Gown – Air of Romance 
Bridesmaid Headpiece – Free People 
---